Rakesh Traders, one stop shop for buying Tibetan Jewelry, Agarbatti Stand, Incense Burner, Decorative Wall Hanging and many more items.
About Us
Rakesh Traders is one such organization where the individuals will get a huge variety of products ranging from antique jewelry pieces, handicraft items to key chains and many more. The company was formed few years back in 2015 and within short time duration, gained a reputed position of manufacturer and trader in the Indian market. Through effective production techniques, we are bringing forth a unique collection of Tibetan Jewelry, Incense Burner, Agarbatti Stand, Decorative Wall Hanging, Handicraft Animals, Kumkum Boxes, Ladies Silver Bracelets, etc. Different kinds of raw material are used in the manufacturing processes like wood, brass, silver, stones, glass, metal, etc., which are sourced from the reputed vendors of the nation.
In order to sustain our reliable reputation, we follow ethical trade practices in the business and manufacture our goods through environment friendly techniques. Whether it is favorable or unfavorable situations, we never compromise with the quality of our products because it is the USP of our company. One thing on which we emphasize the most is continuous improvement which is applied in our products designs, quality of the goods, business policies & strategies, production techniques, etc. Under the guidance of our owner, Mr. Rakesh, all the business dealings with the customers take place as he hold immense domain knowledge & experience.
What Makes Us Superior?
First & foremost, our ability to fulfill clients bulk, urgent as well as customized orders make us a preferable name in the market.
We work cordially with our customers to know their preferences so that we can fulfill the same efficiently.
Complete transparency is maintained in the dealings so that we can retain the trust of the customers.
We always welcome customers feedback because it helps us in further improvement and development.
Quality, Our Commitment
We being a prominent company, committed towards providing best quality products to our customers because we value their hard earned money. Products manufactured using high grade raw material are provided to them in varied designs, colors, material, finishing and other detailing. Latest production techniques are being used by the professionals to ensure flawless production of end products. Rigorously tested, our offerings like Ladies Silver Bracelets, Kumkum Boxes, Handicraft Animals, etc., are admired for unique designs, durability, elegant patterns, uniqueness and attractive colors.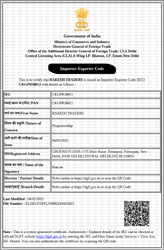 Get in touch with us